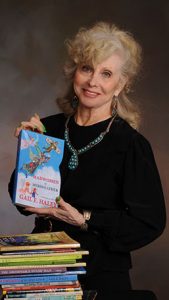 Gail E. Haley was born in Charlotte, North Carolina. She grew up in Shuffletown, a rural township just North of Charlotte. She learned the language and ways of country folk. But on weekends, she studied ballet and tap dance and took marimba lessons.
She also spent her Saturday afternoons at the Charlotte Observer where her Father was art director. She learned how the newspaper was created. This knowledge, plus her love of reading, convinced her by the age of eight that she wanted to write and illustrate children's books.
At seventeen she attended Richmond Professional Institute, where she studied Commercial Art and Fashion Illustration. After two years, she married Joseph Haley, who was a graduate student at The University of Virgina. Gail became one of the first women enrolled at UVA, where she studied Fine Art.
---
An Award-Winning Author and Illustrator
An acclaimed author and award-winning illustrator of children's books, Gail
Haley has appeared at professional conferences, universities, libraries and schools throughout the United States, Canada, Australia, Africa, and the United Kingdom.
In addition to the Caldecott medal she was awarded for the African tale, A STORY,A STORY, she has the unique distinction of being the only person to have that honor as well as England's Kate Greenaway medal which she received for THE POST OFFICE CAT. Her medieval tale, THE GREEN MAN was a Parent's Choice recipient. She also received Japan's Kodai Tosho award and the Kerlan award.
She served as Writer in Residence in the Reich College of Education at Appalachian State University. Her art is housed in numerous galleries throughout the U.S. She taught puppetry at Appalachian State, has several puppetry and costume books to her credit and has twice been featured in this capacity on the PBS program, The Woodwright's Shop.
Interdisciplinary by nature, her presentations are educational and motivational. They can include storytelling and puppetry with the youngest children, an exploration of folktales and other genres (she has written numerous Jack Tales) with 3rd and 4th graders, along with art and illustration demonstrations, and of course those crucial creative writing techniques and critiques for the students in 4th grade and above.
Haley's masks and puppet collection from around the world, along with her books and storytelling, guarantee a multicultural experience, that will engage young learners as they explore the characters, critters, and countries she has created, encountered, and experienced.All sessions are flexible and planned with the coordinator of the visit.